Twilio SMS Connector for Creatio problems and questions
Dear colleagues
I'm trying the connector, but have several doubts, please anybody can help me?
Sent (confirmed) SMS didn't updated on Creatio, Delivery status remains Queued forever. Is that a limitation of the integration or a limitation of the Trial Twilio account?
Also didn't receive responses from sent SMS, if a user answer a received SMS on Creatio this SMS is not received
When I sent an SMS from a process if I want to connect the SMS with another object than the contact I didn't find how to get the id of the sent SMS, so the User task the connector provides, hasn't provided the id of the sent SMS, the only id or lookup I can get is the contact id. How can I determine the id of the sent SMS?
Thanks in advance
Best regards
sorry I forgot another problem I'm having. When I sent the same message from a process, 2 SMS were sent, if I send one from the contact, just send one. Some idea what could be wrong?
With this process 2 SMS are received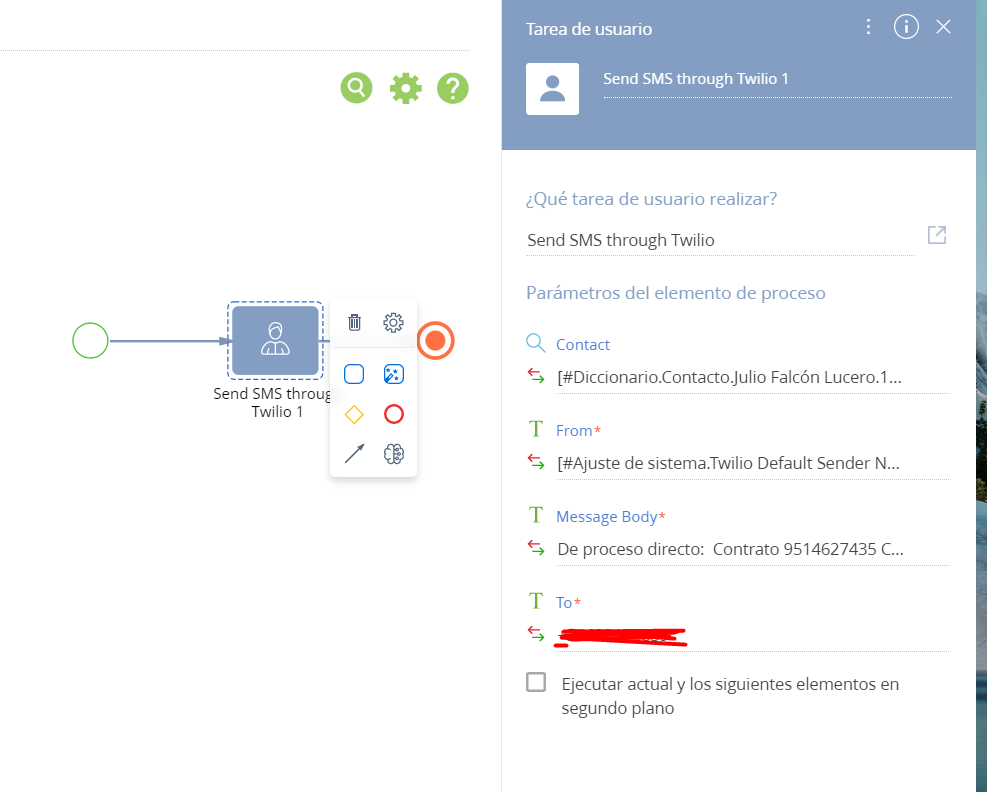 Hi Julio,
We have updates regarding your questions:
1. We reproduced the issue with Queued Delivery status and submitted it to the responsible developer.
2. We require more information to investigate the second issue. Please check whether the sent SMS appeared on the 'Messages log' tab in your Twilio account.
3. This feature is not supported in the user task. I have forwarded your feedback to the responsible developer.
4. We require more information to investigate the issue with 2 SMS sent by the process as well. Please make sure that only one instance of the business process was run in the Process log.
Thank you and we await your reply.
Irina Lazorenko,
Hi Irina,
Thanks for your reply, and please confirm us as soon questions 1 and 3 were resolved.
Regarding question 4

, the sent SMS's were managed by an internal from the connector, the User Task called "Send SMS through Twilio".

Additional info regarding what was happening here is:

When sent an SMS from a user process using this User Task, we receive the most of times the SMS twice, but always two SMS records are created on Creatio Section DlbSmsMessage
When sent an SMS from the communication panel of a contact it works OK, and just one SMS is delivered, so this symptom reinforces the suspect the culprit of the 2 sent SMS and created records, was the User task "Send SMS through Twilio"

 

Regarding question 2

: We won't need to solve this "problem" for now because:

The client confirms that he will not need to receive SMS, only send.

The problem could be related with a numbering issue due to the Twilio provided phone number to send SMS. Current provided number is from the USA/Arizona, and we need to send SMS to Spanish numbers, so could be there some restriction to Spanish numbers to send/answer SMS to a foreign number…

When our customer needs to receive SMS, we will be back to determine where the problem is: The provided numeration, some Twilio restriction or whatever
Thanks again and best regards