Is it possible to set up if/else-if/else-style transitions from email steps in Marketing Campaigns?
Is it possible to implement logic in Marketing Campaign flows similar to an If/Else If/Else block in programming? For example, I would like to send a trigger email to participants in a marketing campaign, and then after 7 days I would like to send participants down one path if they have opened the email and have a certain score; down another if they have opened the email but don't have a high enough score; and down a third path otherwise (i.e. if they haven't opened the email). Another circumstance is they should be sent down one path if they have opened the email and have above a given score, but down another path otherwise (i.e. if they have not opened the email and/or they do not have a high enough score).
These would all be easy programmatically using if, else if and else blocks, but seem very cumbersome and counterintuitive for users having to specify all the conditions for every branch in the campaign designer. For example, in that second example, despite there only being 2 paths wanted, I believe it's necessary for users to create 3 - 1 for the first path mentioned, and then 2 for the second (one for the event that the email has not been opened and another for if the score is not high enough).
Is there something I'm missing and it's actually possible to create an 'else' style transition? Thanks in advance.
Dear Harvey,
Thank you for your question!
Please be advised that the only way to implement a similar logic to the one you are mentioning would be using the additions Arrow`s functionality.
When you click on a Conditional Flow Arrow you may choose the "Set up responses for transferring participants" as in the screenshot below: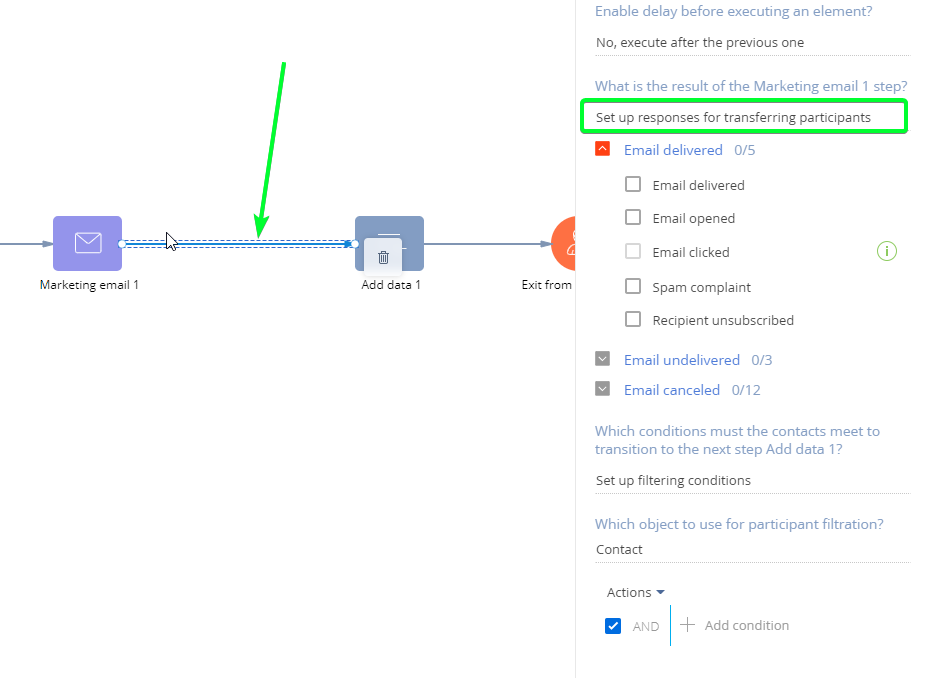 You may use the "Filter conditions" and the "Email delivered" options to set up the logic you require.
In addition, you may follow these links below to read more about Marketing Campaigns:
1. https://academy.creatio.com/docs/user/marketing_tools/marketing_campain…
2. https://academy.creatio.com/docs/developer/elements_and_components/mark…
Hope this would be useful!
Please do not hesitate to contact the Support team in case you have any additional questions!
Regards,
Danyil
Yeah, so this is the fairly unintuitive and cumbersome implementation I was referring to - for one, each path has to be set up to have the same delay and then each of the conditions has to be entirely complete and mutually exclusive, otherwise I assume the behaviour between overlapping conditions would just end up being one of them gets picked randomly (as far as the user is concerned). A minor change which would improve this would be to add some kind of priority to the options, so path A's conditions are checked first, B's second etc, but that would still require setting each delay to the same value manually which is a pain.
As mentioned in my post, these conditions on the transitions as they currently stand with email action conditions separate from other filter conditions also leads to needing 2 transition paths between the same 2 campaign elements in certain circumstances to represent OR groups, such as the one I laid out in my initial post - this is incredibly unintuitive for developers, let alone end users, I would argue.
I would be very interested to know how Creatio teaches marketing end users to use the marketing campaign flow designer, as beyond very basic flows it feels like things get unintuitive quite fast.
In fact, I've just noticed it is not possible to set up 2 transitions from one element to another, so some transitions conditions are actually impossible to implement in the Campaign Flow! My example is that you have an email sent out, and the following transition logic from that email step:
1. Transition to element X if the email was opened and the Lead's score is greater than 3
2. Transition to element Y otherwise (i.e. the email was just delivered OR the lead score <= 3)
As far as I can tell, this is actually impossible to implement in Creatio because the email result conditions cannot be OR'd with the data conditions, and you cannot set up 2 flows out of the email element into the same step (step Y in this example) as a workaround.
Dear Harvey,
Thank you for your patience and dedication to this question!
Please be advised that we would recommend contacting your PSM or CSM manager directly in regards to the Creatio Platform training.
In addition, I have double-checked the initial question about IF\ELSE logic and I can confirm that the "Conditional Flow" arrow is the only option to perform the desired logic.
Please be advised that we have made an Idea-request for our developers to review about this question.
We appreciate your cooperation!
Regards,
Danyil
Thanks Danyil, I did find a workaround for adding the conditions I mentioned, which is to have conditional flows out of the Email step *only* based on email response (opened, delivered etc.) then have any additional data conditions on flows leading out of a dummy step afterwards (I used a timer set to "Every day" and the time period to cover all times). Obviously this isn't the most intuitive solution for marketing end users, especially given the use of a timer step as a dummy/decision step - it would be useful to have a decision step similar to how the XOR element is used in Business Processes at least.