How could I find out edition of the current Creatio product by interface?
Hi community,
We got Sales Creatio licence,
however when I'm asked what edition we use, I'm not sure what to choose.
I may be asked by interface either of documentation or forum: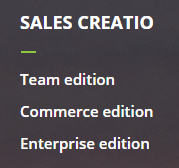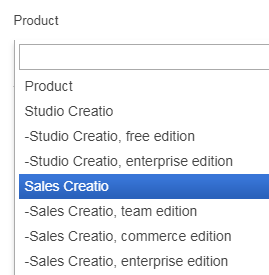 Is there a way of finding it out by interface, not contacting manager or teammates?
For a user with admin rights.
Thanks in advance.
________
If there a need to tell that searched for the answer on the community forum an in docs, I could tell I spent a considerable time on it; googling also. Searched by keywords "get edition", "find out edition", etc.
Best reply
Hi! Please use following sql query to determine version of your application: 
DECLARE @ConfigurationVersion nvarchar(250)
DECLARE @PrimaryCulture nvarchar(250)
DECLARE @Product nvarchar(250)
DECLARE @SysAdminUnit_AllUsers uniqueidentifier = 'A29A3BA5-4B0D-DE11-9A51-005056C00008'
BEGIN
SELECT  @ConfigurationVersion = TextValue
FROM SysSettingsValue ssv
INNER JOIN SysSettings ss on ss.Id = ssv.SysSettingsId
WHERE ss.Code = 'ConfigurationVersion' 
    AND SysAdminUnitId = @SysAdminUnit_AllUsers
SELECT @PrimaryCulture = c.Name
FROM SysSettingsValue ssv
INNER JOIN SysSettings ss on ss.Id = ssv.SysSettingsId
INNER JOIN SysCulture c on c.Id = ssv.GuidValue
WHERE ss.Code = 'PrimaryCulture'
    AND SysAdminUnitId = @SysAdminUnit_AllUsers
SELECT @Product =
CASE
     WHEN 
        EXISTS(SELECT Id FROM SysPackage WHERE Name LIKE 'MarketingSoftkey%')
        AND EXISTS(SELECT Id FROM SysPackage WHERE Name LIKE 'BankOnboardingSoftkey%')
        AND EXISTS(SELECT Id FROM SysPackage WHERE Name LIKE 'BankSalesSoftkey%')
        AND EXISTS(SELECT Id FROM SysPackage WHERE Name LIKE 'Lending%')
     THEN 'bpmonline bank sales & bank customer journey & lending & marketing' 
     WHEN 
        EXISTS(SELECT Id FROM SysPackage WHERE Name LIKE 'BankOnboardingSoftkey%')
        AND EXISTS(SELECT Id FROM SysPackage WHERE Name LIKE 'BankSalesSoftkey%')
     THEN 'bpmonline bank sales & bank customer journey' 
     WHEN 
        EXISTS(SELECT Id FROM SysPackage WHERE Name LIKE 'MarketingSoftkey%')
        AND EXISTS(SELECT Id FROM SysPackage WHERE Name = 'SalesEnterprise')
        AND EXISTS(SELECT Id FROM SysPackage WHERE Name = 'ServiceEnterpriseSoftkey')
     THEN 'bpmonline sales enterprise & marketing & service enterprise' 
     WHEN 
        EXISTS(SELECT Id FROM SysPackage WHERE Name LIKE 'MarketingSoftkey%')
        AND EXISTS(SELECT Id FROM SysPackage WHERE Name = 'SalesEnterprise')
        AND EXISTS(SELECT Id FROM SysPackage WHERE Name = 'CustomerCenterSoftkey')
     THEN 'bpmonline sales enterprise & marketing & customer center' 
     WHEN 
        EXISTS(SELECT Id FROM SysPackage WHERE Name LIKE 'MarketingSoftkey%')
        AND EXISTS(SELECT Id FROM SysPackage WHERE Name = 'SalesCommerce')
        AND EXISTS(SELECT Id FROM SysPackage WHERE Name = 'CustomerCenterSoftkey')
     THEN 'bpmonline sales commerce & marketing & customer center' 
     WHEN 
        EXISTS(SELECT Id FROM SysPackage WHERE Name LIKE 'MarketingSoftkey%')
        AND EXISTS(SELECT Id FROM SysPackage WHERE Name = 'SalesTeam')
        AND EXISTS(SELECT Id FROM SysPackage WHERE Name = 'CustomerCenterSoftkey')
     THEN 'bpmonline sales team & marketing & customer center' 
     WHEN 
        EXISTS(SELECT Id FROM SysPackage WHERE Name LIKE 'MarketingSoftkey%')
        AND EXISTS(SELECT Id FROM SysPackage WHERE Name = 'SalesTeam')
     THEN 'bpmonline sales team & marketing'
     WHEN 
        EXISTS(SELECT Id FROM SysPackage WHERE Name = 'SalesTeam')
     THEN 'bpmonline sales team'
     WHEN 
        EXISTS(SELECT Id FROM SysPackage WHERE Name = 'SalesCommerce')
     THEN 'bpmonline sales commerce'
     WHEN 
        EXISTS(SELECT Id FROM SysPackage WHERE Name = 'SalesEnterprise')
     THEN 'bpmonline sales enterprise'
     WHEN 
        EXISTS(SELECT Id FROM SysPackage WHERE Name Like 'MarketingSoftkey%')
     THEN 'bpmonline marketing'
     WHEN 
        EXISTS(SELECT Id FROM SysPackage WHERE Name = 'CustomerCenterSoftkey')
     THEN 'bpmonline customer center'
     WHEN 
        EXISTS(SELECT Id FROM SysPackage WHERE Name = 'ServiceEnterpriseSoftkey')
     THEN 'bpmonline service enterprise'
     WHEN 
        EXISTS(SELECT Id FROM SysPackage WHERE Name LIKE 'Studio%')
     THEN 'bpmonline studio'
     WHEN 
        EXISTS(SELECT Id FROM SysPackage WHERE Name LIKE 'Lending%')
     THEN 'bpmonline lending'
     WHEN 
        EXISTS(SELECT Id FROM SysPackage WHERE Name LIKE 'BankSalesSoftkey%')
     THEN 'bpmonline bank sales'
     WHEN 
        EXISTS(SELECT Id FROM SysPackage WHERE Name LIKE 'BankOnboardingSoftkey%')
     THEN 'bpmonline bank customer journey'
     ELSE  '?' END
SELECT @Product, @ConfigurationVersion, @PrimaryCulture
END
 
Hi! Please use following sql query to determine version of your application: 
DECLARE @ConfigurationVersion nvarchar(250)
DECLARE @PrimaryCulture nvarchar(250)
DECLARE @Product nvarchar(250)
DECLARE @SysAdminUnit_AllUsers uniqueidentifier = 'A29A3BA5-4B0D-DE11-9A51-005056C00008'
BEGIN
SELECT  @ConfigurationVersion = TextValue
FROM SysSettingsValue ssv
INNER JOIN SysSettings ss on ss.Id = ssv.SysSettingsId
WHERE ss.Code = 'ConfigurationVersion' 
    AND SysAdminUnitId = @SysAdminUnit_AllUsers
SELECT @PrimaryCulture = c.Name
FROM SysSettingsValue ssv
INNER JOIN SysSettings ss on ss.Id = ssv.SysSettingsId
INNER JOIN SysCulture c on c.Id = ssv.GuidValue
WHERE ss.Code = 'PrimaryCulture'
    AND SysAdminUnitId = @SysAdminUnit_AllUsers
SELECT @Product =
CASE
     WHEN 
        EXISTS(SELECT Id FROM SysPackage WHERE Name LIKE 'MarketingSoftkey%')
        AND EXISTS(SELECT Id FROM SysPackage WHERE Name LIKE 'BankOnboardingSoftkey%')
        AND EXISTS(SELECT Id FROM SysPackage WHERE Name LIKE 'BankSalesSoftkey%')
        AND EXISTS(SELECT Id FROM SysPackage WHERE Name LIKE 'Lending%')
     THEN 'bpmonline bank sales & bank customer journey & lending & marketing' 
     WHEN 
        EXISTS(SELECT Id FROM SysPackage WHERE Name LIKE 'BankOnboardingSoftkey%')
        AND EXISTS(SELECT Id FROM SysPackage WHERE Name LIKE 'BankSalesSoftkey%')
     THEN 'bpmonline bank sales & bank customer journey' 
     WHEN 
        EXISTS(SELECT Id FROM SysPackage WHERE Name LIKE 'MarketingSoftkey%')
        AND EXISTS(SELECT Id FROM SysPackage WHERE Name = 'SalesEnterprise')
        AND EXISTS(SELECT Id FROM SysPackage WHERE Name = 'ServiceEnterpriseSoftkey')
     THEN 'bpmonline sales enterprise & marketing & service enterprise' 
     WHEN 
        EXISTS(SELECT Id FROM SysPackage WHERE Name LIKE 'MarketingSoftkey%')
        AND EXISTS(SELECT Id FROM SysPackage WHERE Name = 'SalesEnterprise')
        AND EXISTS(SELECT Id FROM SysPackage WHERE Name = 'CustomerCenterSoftkey')
     THEN 'bpmonline sales enterprise & marketing & customer center' 
     WHEN 
        EXISTS(SELECT Id FROM SysPackage WHERE Name LIKE 'MarketingSoftkey%')
        AND EXISTS(SELECT Id FROM SysPackage WHERE Name = 'SalesCommerce')
        AND EXISTS(SELECT Id FROM SysPackage WHERE Name = 'CustomerCenterSoftkey')
     THEN 'bpmonline sales commerce & marketing & customer center' 
     WHEN 
        EXISTS(SELECT Id FROM SysPackage WHERE Name LIKE 'MarketingSoftkey%')
        AND EXISTS(SELECT Id FROM SysPackage WHERE Name = 'SalesTeam')
        AND EXISTS(SELECT Id FROM SysPackage WHERE Name = 'CustomerCenterSoftkey')
     THEN 'bpmonline sales team & marketing & customer center' 
     WHEN 
        EXISTS(SELECT Id FROM SysPackage WHERE Name LIKE 'MarketingSoftkey%')
        AND EXISTS(SELECT Id FROM SysPackage WHERE Name = 'SalesTeam')
     THEN 'bpmonline sales team & marketing'
     WHEN 
        EXISTS(SELECT Id FROM SysPackage WHERE Name = 'SalesTeam')
     THEN 'bpmonline sales team'
     WHEN 
        EXISTS(SELECT Id FROM SysPackage WHERE Name = 'SalesCommerce')
     THEN 'bpmonline sales commerce'
     WHEN 
        EXISTS(SELECT Id FROM SysPackage WHERE Name = 'SalesEnterprise')
     THEN 'bpmonline sales enterprise'
     WHEN 
        EXISTS(SELECT Id FROM SysPackage WHERE Name Like 'MarketingSoftkey%')
     THEN 'bpmonline marketing'
     WHEN 
        EXISTS(SELECT Id FROM SysPackage WHERE Name = 'CustomerCenterSoftkey')
     THEN 'bpmonline customer center'
     WHEN 
        EXISTS(SELECT Id FROM SysPackage WHERE Name = 'ServiceEnterpriseSoftkey')
     THEN 'bpmonline service enterprise'
     WHEN 
        EXISTS(SELECT Id FROM SysPackage WHERE Name LIKE 'Studio%')
     THEN 'bpmonline studio'
     WHEN 
        EXISTS(SELECT Id FROM SysPackage WHERE Name LIKE 'Lending%')
     THEN 'bpmonline lending'
     WHEN 
        EXISTS(SELECT Id FROM SysPackage WHERE Name LIKE 'BankSalesSoftkey%')
     THEN 'bpmonline bank sales'
     WHEN 
        EXISTS(SELECT Id FROM SysPackage WHERE Name LIKE 'BankOnboardingSoftkey%')
     THEN 'bpmonline bank customer journey'
     ELSE  '?' END
SELECT @Product, @ConfigurationVersion, @PrimaryCulture
END
 
I know this post is almost 2 years old, but it seems like this information should be readily available from the UI on the Help menu