Chrome - Aw, Snap! Error - Anyone else seeing this?
Hi all, 
Many users have started to experience a random error where all Creatio tabs suddenly shut down. I've had it reported across users in different offices, so I know it's not a local issue. Creatio also seems to be the only website where this happens. 
Wondering if anyone else has experienced this or if there is something in our configuration that's causing it.  
This is just one of the error codes that have been reported, but there have been a few. 
Thanks
Harry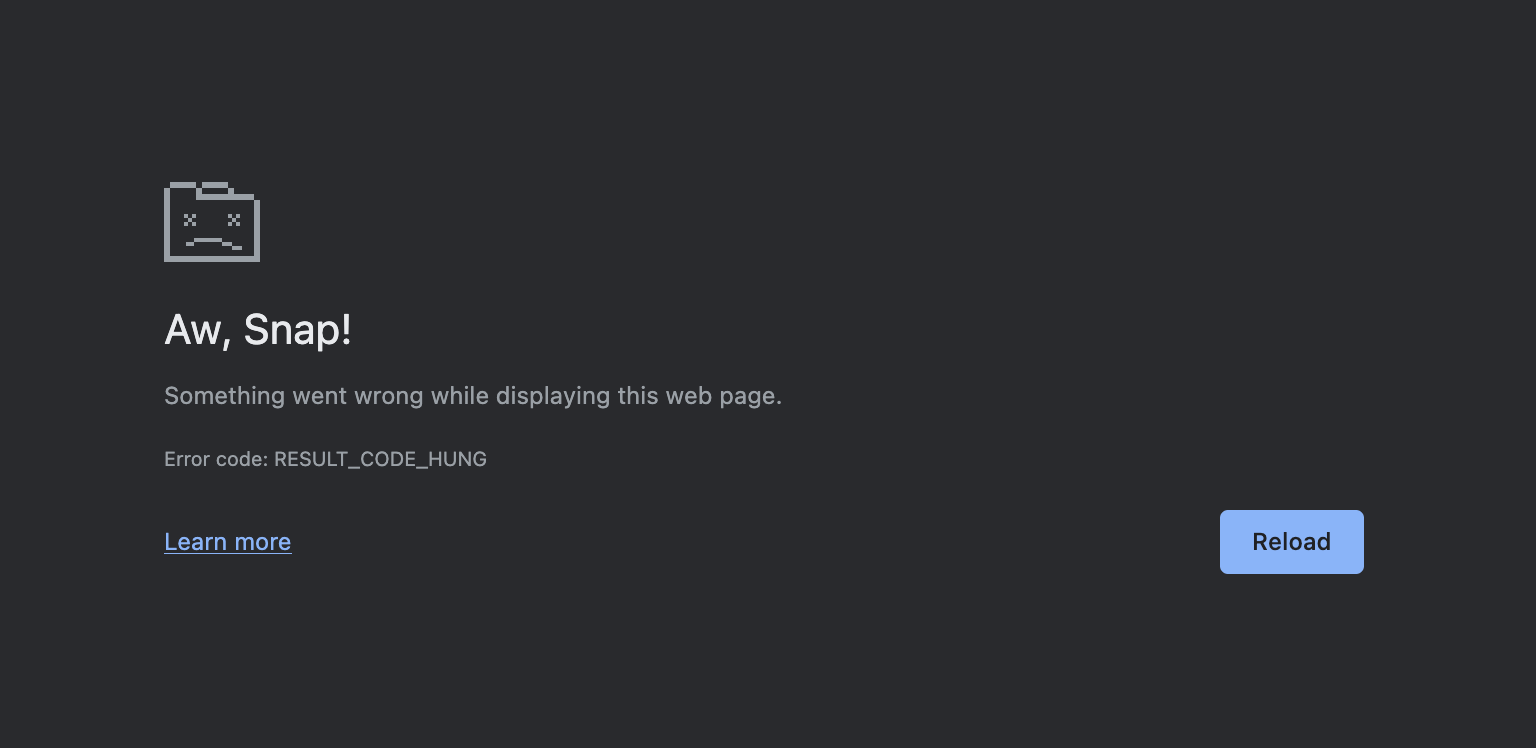 I've been getting that too. I assume this is on Freedom UI pages? I definitely have seen this with Freedom UI pages (never on classic UI pages)
I seem to get this mostly on the Freedom UI Accounts_FormPage (on occasion, not consistently every time). It only seems to happen in Chrome, I've never noticed it when using Safari. I get this often in my own Creatio system, although no other users have reported it to me, so I was thinking it was something weird with my browser or browser extensions or something. 
For some reason I feel like I've seen it less lately, so wondering if 8.0.10 fixed something? My system was recently upgraded to 8.0.10 so could be related. I guess now, knowing that it's not just my browser, I'll start keeping track of when it happens.
Ryan
Thanks Ryan, we're definitely seeing it across quite a few users. 
Our instance is entirely running with Freedom UI pages, and doesn't seem to be consistent to one particular page. From my research it's possibly something to do with the browser memory of freedom UI pages, and chrome being overloaded. 
Be interesting to see if others are experiencing the same. Creatio support are not aware of any issue.
Hi all, we are experiencing this too, again with Freedom pages.  We've also seen this happen with Chrome with other systems where there is a richer UI...seems the browser just runs out of memory.
Hi All, 
Has anyone found a solution to this yet? I'm receiving more cases every day.
Thanks
Harry
Harry,
I've been getting this more and more. Do you know if Creatio is aware of the issue? Have you created any support cases for this yet?
Ryan
Hi Ryan, 
Yes, I've created a case and followed up today. It's very tricky to get hold of a HAR file from our users, but have attempted to give as much information as possible. 
Hopefully there is a fix. I saw that you are also experiencing it on 8.1, so I guess no luck of this going with the update. 
Harry
Bump! 
Anyone figured this one out yet? Struggling to get any help on finding the root cause of this issue. 
Thanks
Harry!
We got a response from support that said the following: 
The error can be reproduced not only in Creatio, but on any website.
It is related to the update of Chrome to version 117+. For our part, we have prepared a fix, necessary update (8.0.10, 8.1.0, 8.1.1).

In the meantime, users experiencing this behavior should use Safari/Firefox browsers.
It sounds like they've identified the cause and have a fix, but I don't yet know which version that fix will be available or if it's something they can add to existing systems - I'm finding out.
Ryan
Thanks Ryan, I received the same reply. I've asked if that means they can apply the fix. 
I was receiving it non-stop today, yet I just updated chrome to the version below a few hours ago and I have not had any errors since. Hopefully this is a fix! 
Version 119.0.6045.159 (Official Build) (arm64)
Harry,
Great news Harry. I was also told by support that they have a fix for the issue - in case the Chrome update doesn't solve it, Creatio's fix should and it hopefully wont be happening any longer. 
Thanks Ryan. 
Yes, looks to be good now - glad we got there eventually!