Cannot bind data from BulkEmailAudienceSchema or CampaignSignalEntity objects to package
Hello,
I added a custom entity for bulk emails. This is added  to BulkEmailAudienceSchema. Additionally, for custom objects for campaigns added to CampaignSignalEntity. I'd like to bind this data to a package, but I cannot see BulkEmailAudienceSchema or CampaignSignalEntity in the list of objects to bind data from. My package has a dependency of ProductCore.
How do I bind data from these tables to my package? Is it possible without resorting to SQL statements to insert the data from my package?
Hello Ryan,
I have a full bundle application deployed locally (7.17.1) and both CampaignSignalEntity and BulkEmailAudienceSchema entities you mentioned appear in the list of objects in the data-binding: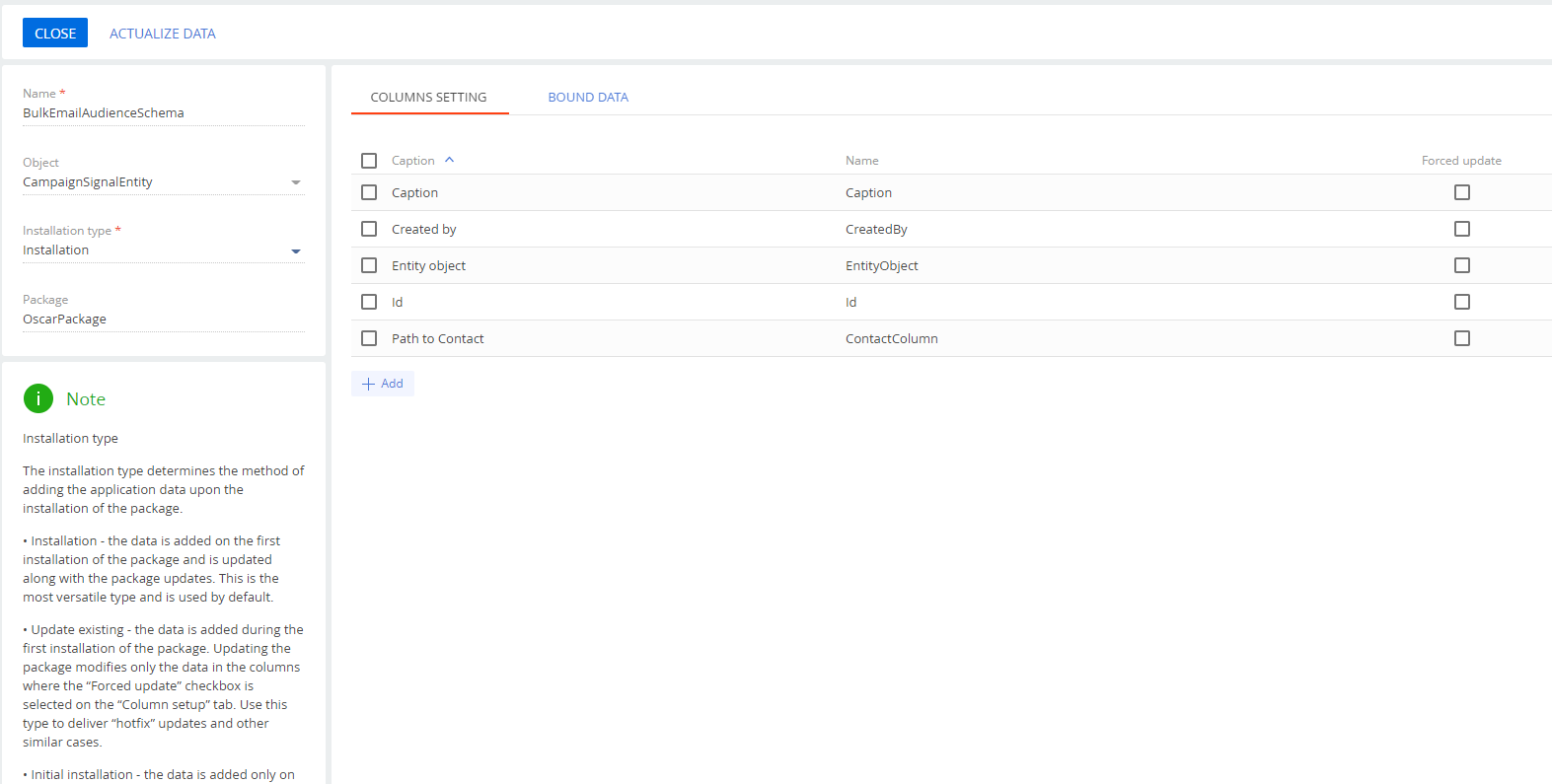 and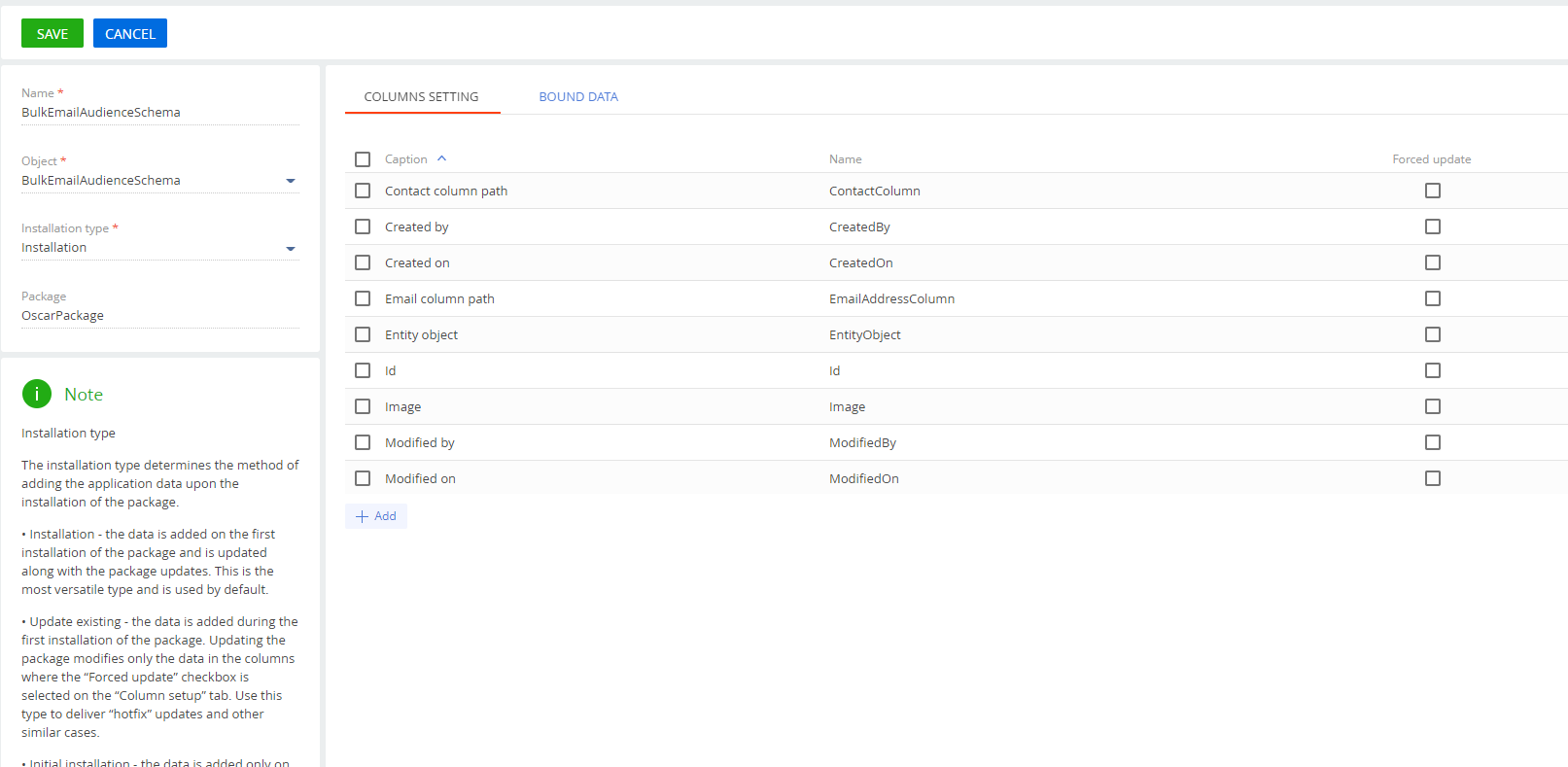 But when saving data from the CampaignSignalEntity I receive this message: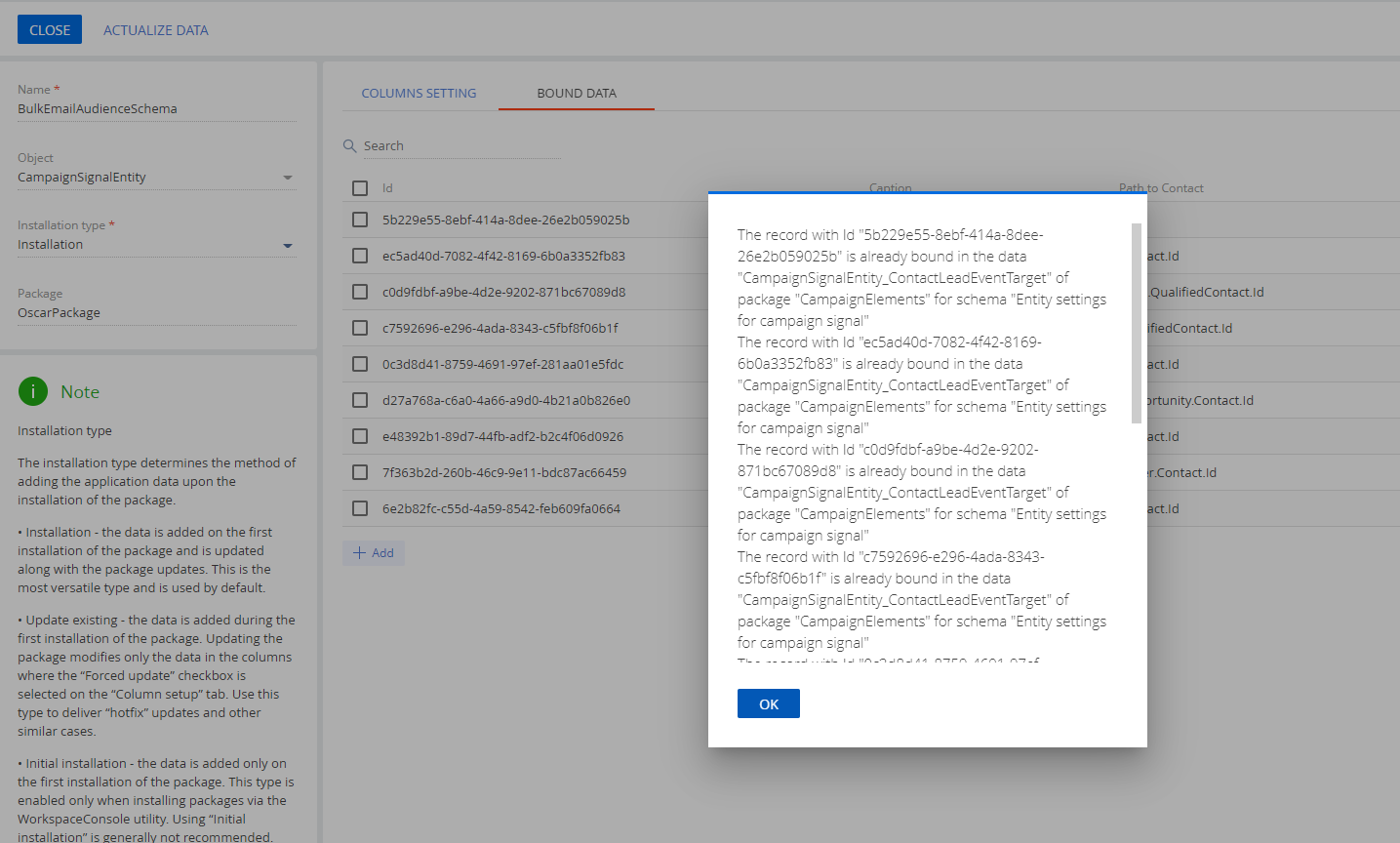 but the data is bound anyway. Also this message is received when saving data in the BulkEmailAudienceSchema: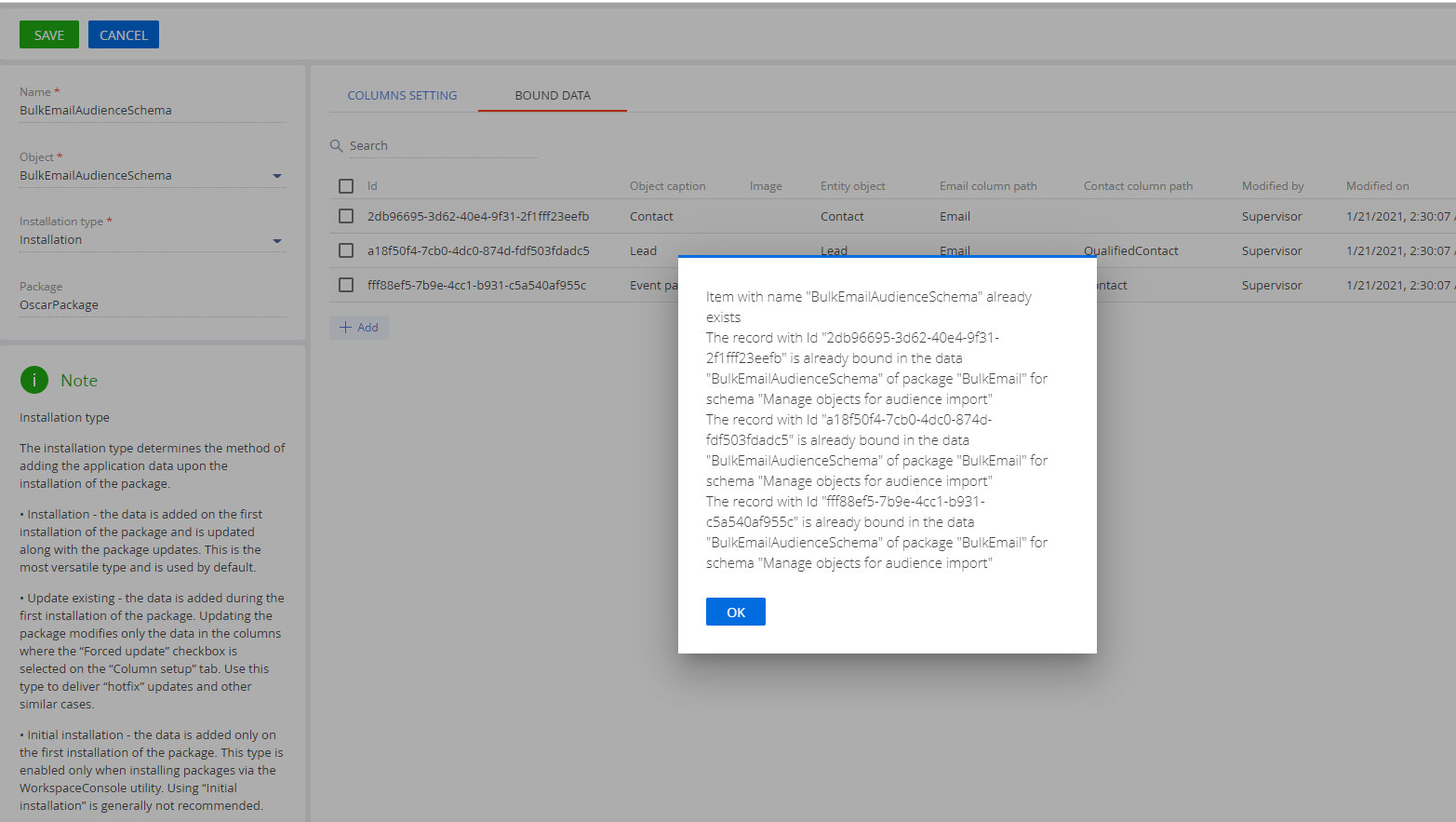 And the data is not saved (since I tried to bind out-of-the-box rules that already present out-of-the-box).
Here is also the package dependencies for my package: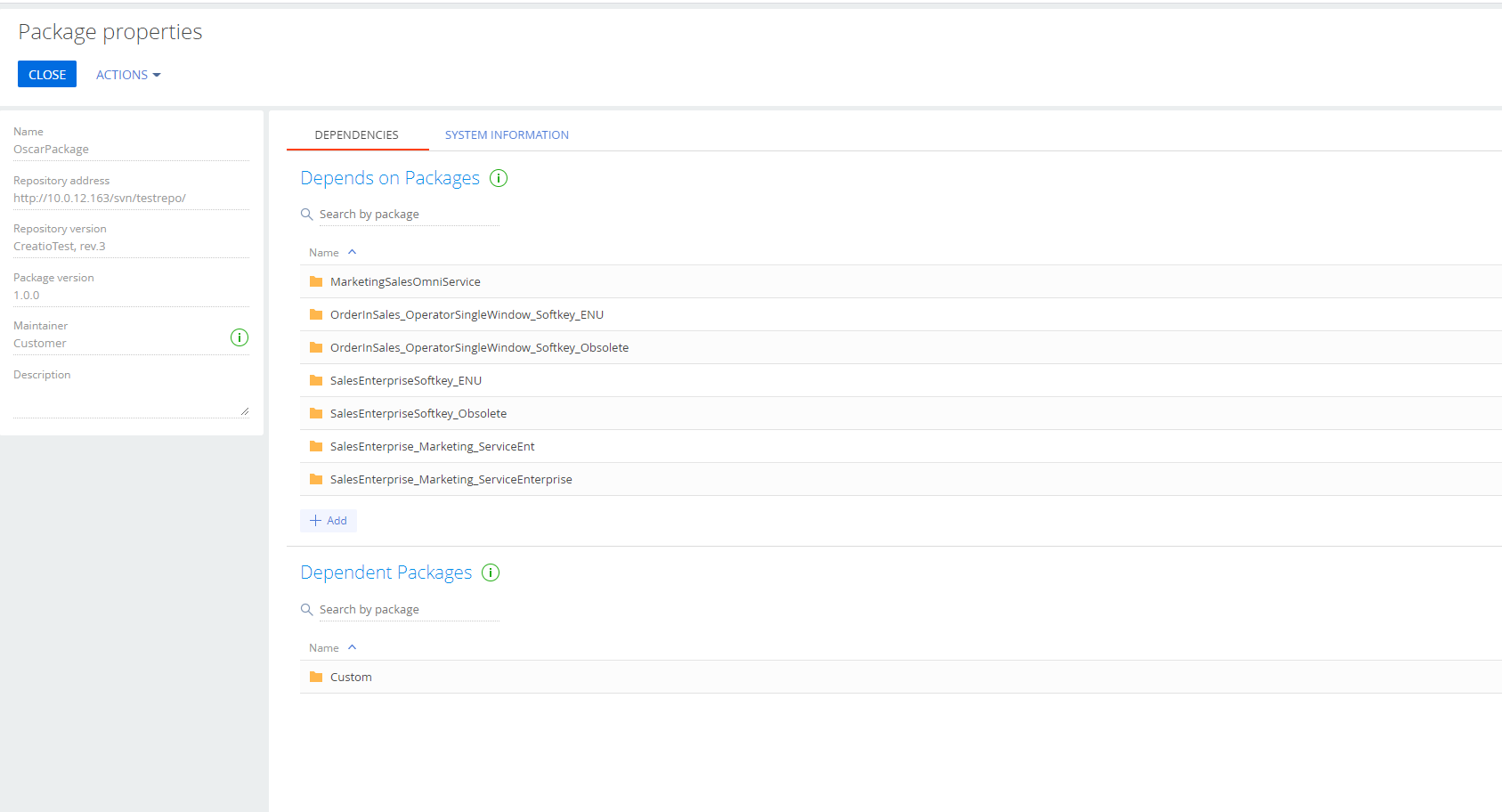 Please make sure that your package has the same dependencies and also check if your application has a marketing product. For example if this is an MS SQL database you can use the following query to determine the product version and build:



DECLARE @ConfigurationVersion nvarchar

(

250

)


DECLARE @PrimaryCulture nvarchar

(

250

)


DECLARE @Product nvarchar

(

250

)


 
DECLARE @SysAdminUnit_AllUsers uniqueidentifier 

=

 

'A29A3BA5-4B0D-DE11-9A51-005056C00008'


 
BEGIN
SELECT  @ConfigurationVersion 

=

 TextValue
FROM SysSettingsValue ssv
INNER JOIN SysSettings ss on ss.

Id

 

=

 ssv.

SysSettingsId


WHERE ss.

Code

 

=

 

'ConfigurationVersion'

 
	AND SysAdminUnitId 

=

 @SysAdminUnit_AllUsers
 
SELECT @PrimaryCulture 

=

 c.

Name


FROM SysSettingsValue ssv
INNER JOIN SysSettings ss on ss.

Id

 

=

 ssv.

SysSettingsId


INNER JOIN SysCulture c on c.

Id

 

=

 ssv.

GuidValue


WHERE ss.

Code

 

=

 

'PrimaryCulture'


	AND SysAdminUnitId 

=

 @SysAdminUnit_AllUsers
 
SELECT @Product 

=


CASE
     WHEN 
		EXISTS

(

SELECT Id FROM SysPackage WHERE Name LIKE 

'MarketingSoftkey%'

)


		AND EXISTS

(

SELECT Id FROM SysPackage WHERE Name LIKE 

'BankOnboardingSoftkey%'

)


		AND EXISTS

(

SELECT Id FROM SysPackage WHERE Name LIKE 

'BankSalesSoftkey%'

)


		AND EXISTS

(

SELECT Id FROM SysPackage WHERE Name LIKE 

'Lending%'

)


	 THEN 

'bpmonline bank sales & bank customer journey & lending & marketing'

 
     WHEN 
		EXISTS

(

SELECT Id FROM SysPackage WHERE Name LIKE 

'BankOnboardingSoftkey%'

)


		AND EXISTS

(

SELECT Id FROM SysPackage WHERE Name LIKE 

'BankSalesSoftkey%'

)


	 THEN 

'bpmonline bank sales & bank customer journey'

 
	 WHEN 
		EXISTS

(

SELECT Id FROM SysPackage WHERE Name LIKE 

'MarketingSoftkey%'

)


		AND EXISTS

(

SELECT Id FROM SysPackage WHERE Name 

=

 

'SalesEnterprise'

)


		AND EXISTS

(

SELECT Id FROM SysPackage WHERE Name 

=

 

'ServiceEnterpriseSoftkey'

)


	 THEN 

'bpmonline sales enterprise & marketing & service enterprise'

 
	 WHEN 
		EXISTS

(

SELECT Id FROM SysPackage WHERE Name LIKE 

'MarketingSoftkey%'

)


		AND EXISTS

(

SELECT Id FROM SysPackage WHERE Name 

=

 

'SalesEnterprise'

)


		AND EXISTS

(

SELECT Id FROM SysPackage WHERE Name 

=

 

'CustomerCenterSoftkey'

)


	 THEN 

'bpmonline sales enterprise & marketing & customer center'

 
	 WHEN 
		EXISTS

(

SELECT Id FROM SysPackage WHERE Name LIKE 

'MarketingSoftkey%'

)


		AND EXISTS

(

SELECT Id FROM SysPackage WHERE Name 

=

 

'SalesCommerce'

)


		AND EXISTS

(

SELECT Id FROM SysPackage WHERE Name 

=

 

'CustomerCenterSoftkey'

)


	 THEN 

'bpmonline sales commerce & marketing & customer center'

 
	 WHEN 
		EXISTS

(

SELECT Id FROM SysPackage WHERE Name LIKE 

'MarketingSoftkey%'

)


		AND EXISTS

(

SELECT Id FROM SysPackage WHERE Name 

=

 

'SalesTeam'

)


		AND EXISTS

(

SELECT Id FROM SysPackage WHERE Name 

=

 

'CustomerCenterSoftkey'

)


	 THEN 

'bpmonline sales team & marketing & customer center'

 
	 WHEN 
		EXISTS

(

SELECT Id FROM SysPackage WHERE Name LIKE 

'MarketingSoftkey%'

)


		AND EXISTS

(

SELECT Id FROM SysPackage WHERE Name 

=

 

'SalesTeam'

)


	 THEN 

'bpmonline sales team & marketing'


	 WHEN 
		EXISTS

(

SELECT Id FROM SysPackage WHERE Name 

=

 

'SalesTeam'

)


	 THEN 

'bpmonline sales team'


	 WHEN 
		EXISTS

(

SELECT Id FROM SysPackage WHERE Name 

=

 

'SalesCommerce'

)


	 THEN 

'bpmonline sales commerce'


	 WHEN 
		EXISTS

(

SELECT Id FROM SysPackage WHERE Name 

=

 

'SalesEnterprise'

)


	 THEN 

'bpmonline sales enterprise'


	 WHEN 
		EXISTS

(

SELECT Id FROM SysPackage WHERE Name Like 

'MarketingSoftkey%'

)


	 THEN 

'bpmonline marketing'


	 WHEN 
		EXISTS

(

SELECT Id FROM SysPackage WHERE Name 

=

 

'CustomerCenterSoftkey'

)


	 THEN 

'bpmonline customer center'


	 WHEN 
		EXISTS

(

SELECT Id FROM SysPackage WHERE Name 

=

 

'ServiceEnterpriseSoftkey'

)


	 THEN 

'bpmonline service enterprise'


	 WHEN 
		EXISTS

(

SELECT Id FROM SysPackage WHERE Name LIKE 

'Studio%'

)


	 THEN 

'bpmonline studio'


	 WHEN 
		EXISTS

(

SELECT Id FROM SysPackage WHERE Name LIKE 

'Lending%'

)


	 THEN 

'bpmonline lending'


	 WHEN 
		EXISTS

(

SELECT Id FROM SysPackage WHERE Name LIKE 

'BankSalesSoftkey%'

)


	 THEN 

'bpmonline bank sales'


	 WHEN 
		EXISTS

(

SELECT Id FROM SysPackage WHERE Name LIKE 

'BankOnboardingSoftkey%'

)


	 THEN 

'bpmonline bank customer journey'


	 ELSE  

'?'

 END
 
SELECT @Product Product, @ConfigurationVersion Version, @PrimaryCulture Localization
END



Best regards,
Oscar