Why mobile app rule not working ?
I want to show column with cdde "UsrCapacite_camion" when field with code "UsrSegmentClient"=Distribution .
This is my code :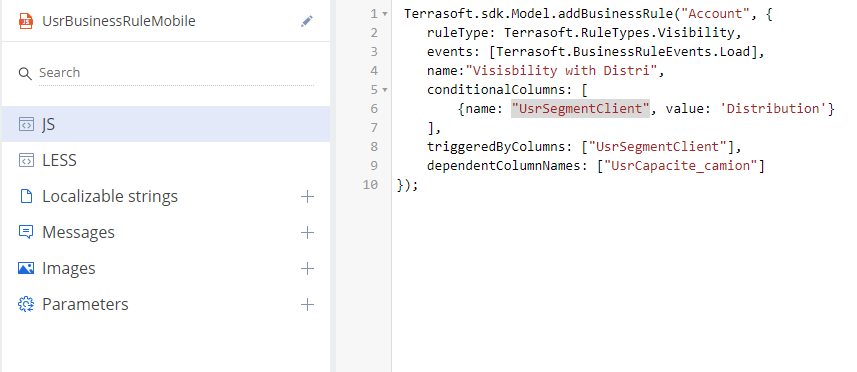 and here is my manifest: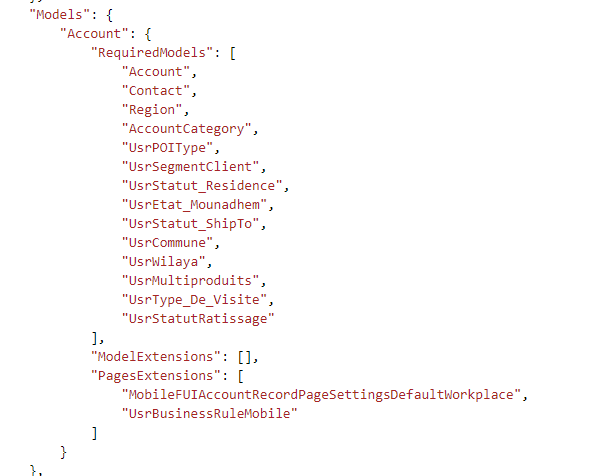 Hello,
It seems that the UsrSegmentClient column is a lookup and you need to use an actual Id here, not display value of the lookup (in the value: 'Distribution' part specify an actual Id of the record instead of the 'Distribution' value). That's why the rule doesn't do anything.
Oleg Drobina,
Hello,
Nothing changed unfortunately
!
 
developer,
Hello,
Indeed, tested the same locally and it didn't work. I've discussed this with our R&D team and in FreedomUI old approach with mobile app business rules won't work anymore, only in old UI. They also have a task to make it possible to develop business rules in Freedom UI using standard wizard in mobile app and they've prioritized this task.
Oleg Drobina,
Hi,
I read in 8.0.8 release, that 'Creatio mobile app now supports the operation of object-level business rules both online and offline.'
But as I've tried to use Object-level business rules, they works in web app, and don't work in mobile app (in both online and offline mode)
What then was mentioned in release note?
Kind regards,
Vladimir