Disable Select All button in Modal dialog box
How to disable the Select All button on Modal dialog box?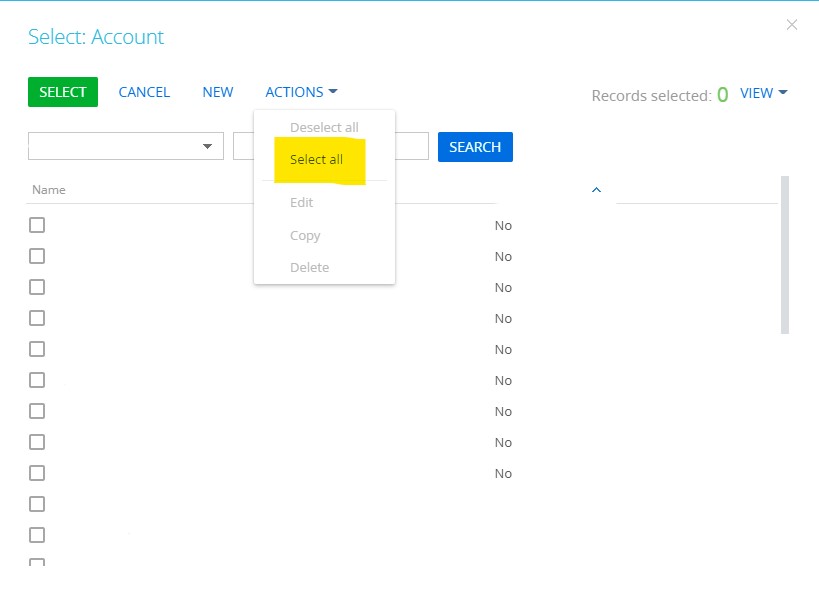 Dear Anupama,
Hope you're doing well.
Possibly the next articles will be useful for solving your business task:
Best regards,
Roman
Roman Rak,
Thanks Roman but the links are referring to the section objects. I want to disable the Action Item(Select All) in Lookup Config - please find the screenshot added in the current post.
I have tried by overriding the getSelectionControlsConfig and getActionsMenuConfig from LookupPageViewGenerator schema module but it looks like the method is not getting executed.
Kindly suggest
Hello Anupama,
Thank you for your reply. 
If to talk about a selection card from a lookup,  the getSelectionControlsConfig method in the LookupPageViewGenerator. The BaseLookupPageV2 scheme is responsible for this page/window. For example, previously the Add button was called: SeparateModeAddRecordButton, the ActionsButton is action button, etc.. You can override and customize the visibility of these buttons as you need.
Here are some examples as well:
Kind regards,
Roman