Test landing pages before deployment
Hi,
We are working to create a series of landing pages on our site to gather as many leads as possible. However, before publishing the new landing pages (containing the Creatio integration code) we wanted to test them using some local .html files with no luck.
Beside the code (generated by Creatio) that has been inserted in the .html file, our form looks as simple as possible:
<form class="mainForm" name="landingForm" method="post" id="Credit-IMM-Lading-Page" onSubmit="createObject(); return false">
 <label>Name: </label><br><input type="text" id="Name"/><br><br>
 <label>Email: </label><br><input type="text" id="Email"/><br><br>
 <label>Mobile Phone: </label><br><input type="text" id="MobilePhone"/><br><br>
 <input type="submit" value="Create Lead"/>
</form>
When clicking on "submit" no lead gets added in Creatio. Can anyone help with the main reasons why this would happen?
Creatio Version: 8.0.0.5476
Thank you
Hello,
To resolve this you need to change the settings of the landing page as on the screenshot below. In the field "Website domains" instead of the whole landing page link put a * after the website address.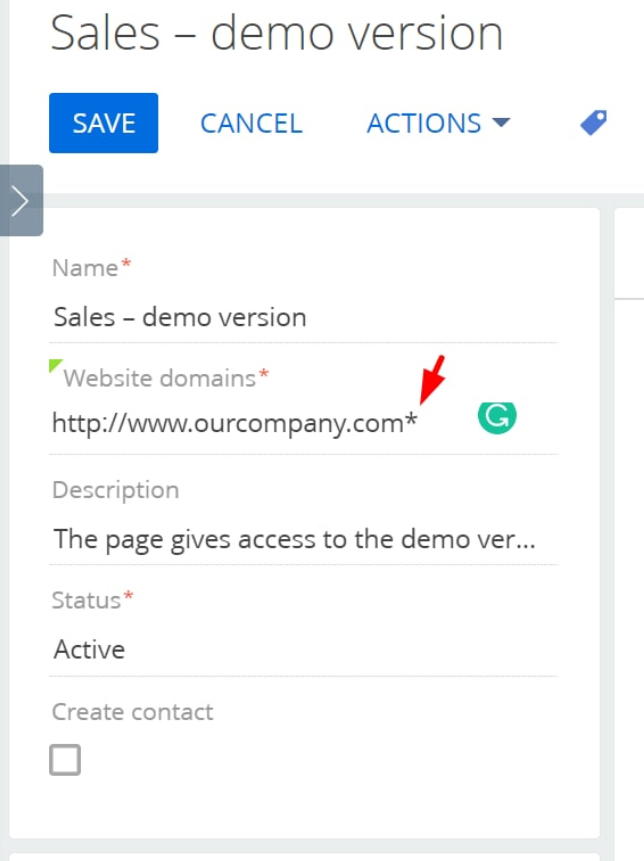 Kind regards,
Mira