Extend pre-saved date ranges in opportunities list
Hi,
Is it possible to add a filter on "past year", "current year", "next year" in the dates on the opportunity list ?
Hello Damien,
 
You can filter records by time period, for example, to display the activities for the current or previous week. There are three quick filter presets: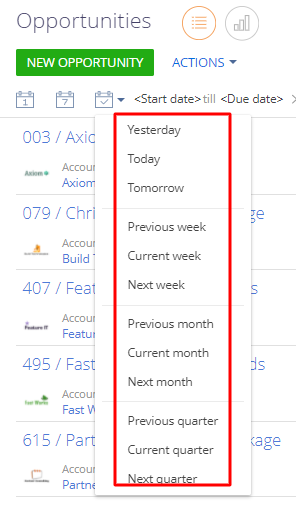 You can also set a custom period by specifying its start and end dates using the built-in calendar.
Best regards,
Bogdan
Bogdan,
Hi Bogdan,
Thanks for the reply. In my screenshot I am exactly showing the quick filters you are showing me.
To rephrase my question: is it possible to configure the quick filters to also include "previous year", "current year", "next year" ?
It is a functionality often present at competitor products (SFDC, Pipedrive etc..) and a couple clients are asking for it.