Cannot open wizard tools more than 2 tabs
Hi everyone,
Anyone have issue when open wizard tools like Section wizard, Business process editor more than 2 tabs.
Example:
tab 1, open the app in the homepage
tab 2, open section wizard
tab 3, open business process.
Tab 3 just showing loading bpmonline, and when I try reload, just loading. and if I close tab 1 / 2, the tab 3 can be access.
Is it my specification are lacking or any configuration?
FYI: I develop creatio in i5 1,8ghz, 20gb ddr4 ram, and 250 ssd
Hello Romadan,
We have never faced such issues in the past so please specify:
1) If this issue occurs if you are trying to open several different processes or only one?
2) Do you have "Debug mode" being turned on?
3) Seems that you are receiving some console error when trying to open a process. Please provide us with a screenshot of this error and also copy it here.
4) Do you open your process from process log or from process library? Or do you open execution diagram of your process?
Thank you in advance!
Best regards,
Oscar
Oscar Dylan,
Hi Oscar, thanks for reply.
Can you check my video for more details, I record what happen in my local.
https://www.loom.com/share/c5af582e899043a8803854d5d7b12bd5
1). Several process. The point is if open the application more than 2 tabs (wizard tool only).
2). No
3). Error is request timeout.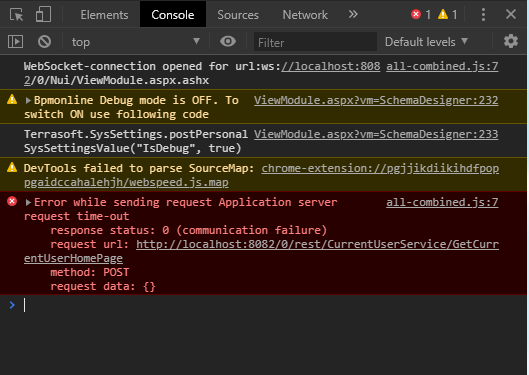 4) From process log, from process library, open section wizard too, the point is wizard tool.
Thanks
Romadan Saputra,
Got it, thank you! And can you please go to "Network" tab, catch the request that returns this error and check "Response" tab of this request? What response do you get from the server? Maybe there will be more information on this time-out error.
Best regards,
Oscar
Oscar Dylan,
I got 2 pending process



is it any configuration in IIS / Connection String / System Setting that shoul be modification?