Viewing of the printable content without downloading the printable
Hi Community,
When we download a printable, first the printable is downloaded and later we are manually clicking on the downloaded printable to view the content.
Question : is there a way on clicking of the printable, we open the pfd/word document instead of downloading it/parallelly the printable is downloaded and viewed instead of manually clicking on the downloaded document?
Hi Amritha,
There is no option to preview or open the printable report without downloading the file itself. Theoretically, it is possible to develop custom preview of the report in the application, but it would be quite a complicated development task. Unfortunately, we do not have any examples of such implementation.
I will register your idea in our R&D team backlog, it might be available in future application versions.
Regards,
Dean
Dean Parrett,
Is is possible to open the downloaded printable automatically post downloading it instead of manually going to downloads and clicking on the downloaded printable?
Amritha Mayan Gorky,
Yes, but this question relates more to your browser. For example in Chrome, there is an option to open files of some certain type automatically after the download. After downloading the file, select Always open files of this type option. Next time when downloading Word file, like in my case, it will be opened automatically.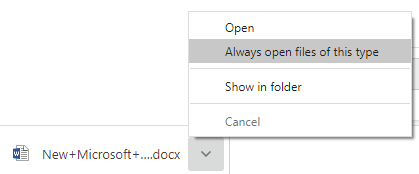 Regards,
Dean