Business role loading error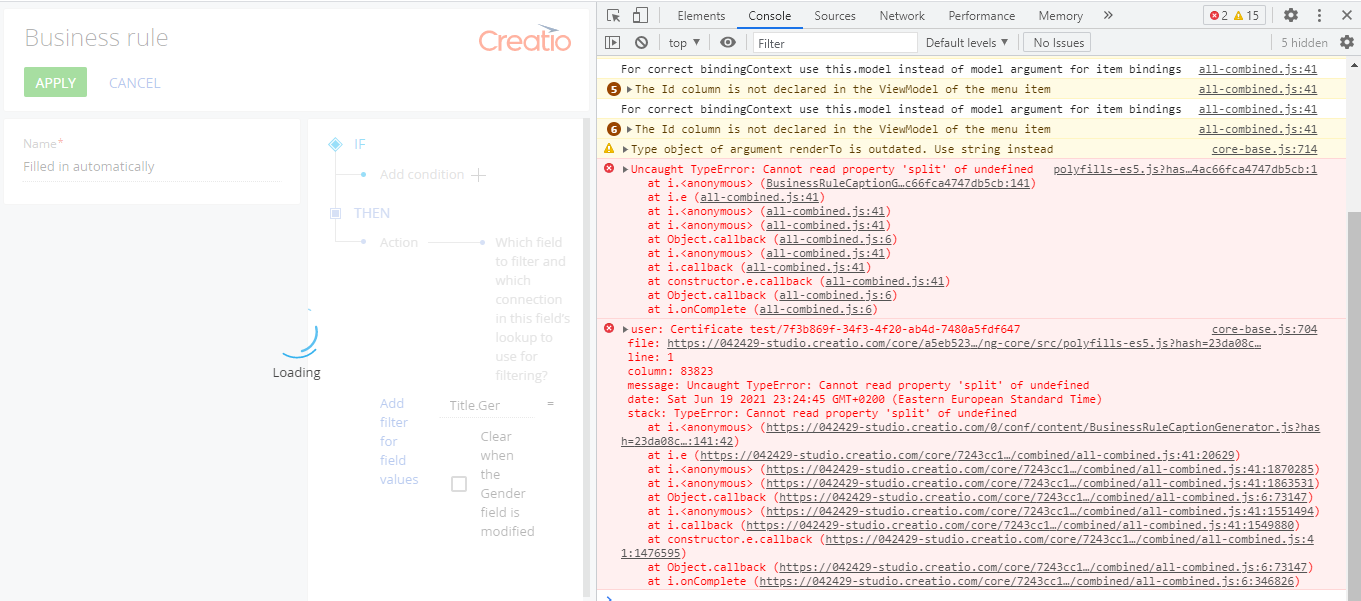 hi all 
i have an issue in contacts business role
i made the field title filtered by selected gender if Male then available title options should be "Mr" and "Dr" and if Female then available title options should be "Ms" and "Mrs" i added the lookup in object and customized the salutations lookup in lookup and now in the final step business role i make it but when saving it takes a long time loading and not save anything with these errors in inspect in the screenshot , how can i solve it ?
thanks
Hello Ibrahim, 
There are a few possible root causes of the issue. Such error could occur due to incorrectly added lookup (especially if it was added by code) or due to overridden method "loadVocabulary"  in the schemas, or incorrectly implemented logic in the business rule itself. In order to find the exact reason of this error, please message us at support@creatio.com, so we could investigate the issue!
Thank you in advance!
Best regards, 
Anastasiia
Anastasiia Zhuravel,
hi 
as i said i have to filter title due to gender so i replaced  object in the advanced setting and inherited  from it . after that i added my lookup field in the replaced object and it works correctly and the gender options appeared in title ,
the problem here as i said the business role 
is there any steps or anything i can edit to make it work correctly 
thanks
Dear Ibrahim,
Based only on the provided information we cannot tell for sure the root cause of the issue. We would need to check the properties of the replaced object and custom columns along with the business rule itself,  so I would like to ask you to email us at support@creatio.com, so we could check the needed information and provide you with a solution.
Thank you for understanding. 
Best regards, 
Anastasiia